When Damien Hirst erected 14 massive sculptures depicting the stages of human fetal development in Doha, Qatar, we can't say that we were surprised. The controversial British bad boy has a knack for staging over-the-top art spectacles (see here, here andhere), so his arrangement of 216 tons worth of bronze babies was hardly his most explosive exhibition.
What is surprising, however, is that the artwork, titled "The Miraculous Journey," has garnered praise from an unlikely group of conservative admirers. According to Independent Catholic News, Pro-Life supporters are smitten with Hirst's homage to the gestation process, calling it, among other things, "art in service of truth."
"Whether the artist intended it or not, and I believe he did, the sculptures take a pro-life view," Canadian Catholic Lou Iacobelli wrote on his blog. "Consider the last piece which is a huge sculpture of the born baby. Visually it says that we cannot hide this human life away and destroy it."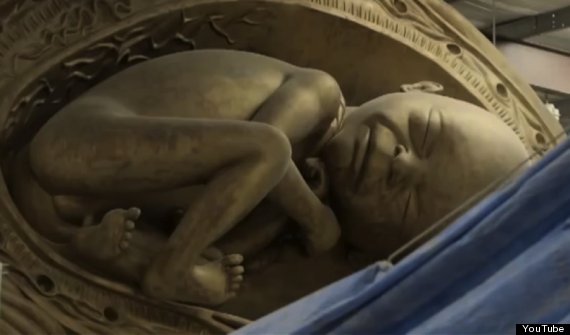 "We congratulate the Qatari authorities on their eye-catching public initiative," ICN quotes Anthony Ozimic, communications manager of the Society for the Protection of Unborn Children (SPUC), as saying. "Educating the public about the wonderful reality of human development from conception through to birth is a vital means of saving unborn children."
The remainder of the article is available here.